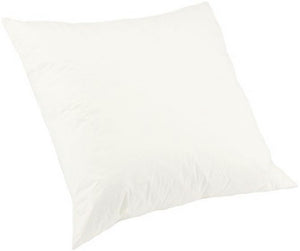 · UF Fibre Cotton cushion pad 12x12
These cushion pads are generously filled with virgin hollow fibre filling and are the perfect choice for use as scatter cushions on sofas and large chairs or as comfy floor cushions for your living room, playroom and bedroom.
The cushion pad outer is made from cotton and the cushions have channels sewn within them to help prevent the fibre moving around.
These cushion pads are available in the following sizes - PLEASE NOTE measurements are taken prior to filling and measured from seam to seam when flat:
12" x 12" (30.5cm x 30.5cm).
13" x 13" (33cm x 33cm).
14" x 14" (36cm x 36cm).
15" x 15" (38cm x 38cm).
16" x 16" (41cm x 41cm).
17" x 17" (43cm x 43cm).
18" x 18" (46cm x 46cm).
19" x 19" (48cm x 48cm).
20" x 20" (51cm x 51cm).
21" x 21" (53cm x 53cm).
22" x 22" (56cm x 56cm).
23" x 23" (58cm x 58cm).
24" x 24" (61cm x 61cm).
25" x 25" (63.5cm x 63.5cm).
26" x 26" (66cm x 66cm).
27" x 27" (69cm x 69cm).
28" x 28" (71cm x 71cm).
29" x 29" (73.5cm x 73.5cm).
30" x 30" (76cm x 76cm).
31" x 31" (79cm x 79cm).
32" x 32" (81cm x 81cm).
16" x 12" (41cm x 30.5cm).
17" x 13" (43cm x 33cm).
19" x 13" (48cm x 33cm).
19" x 15" (48cm x 38cm).
20" x 12" (51cm x 30.5cm).
21" x 13" (53cm x 33cm).
25" x 15" (63.5cm x 38cm).
25" x 17" (63.5cm x 43cm).
We recommend using a cushion pad at least one inch larger than your cushion cover but to achieve a full, plump look, go 2 inches larger. For example, if your cushion cover is 13", we would recommend you use a 15" cushion pad for a fully plump cushion.
Regular plumping will keep these cushion pads looking full. These cushion pads should be sponge cleaned only.
Please note that the colour of the outer material may vary slightly. All measurements are approximate.
Style: Plain
Type: Cushion Pad
Material: Virgin Hollow Fibre Filling with Cotton Cover.
Details: These square cushion pads have a virgin hollow fibre filling with a cotton cover and are available in a range of sizes. Colour of outer material may vary slightly.
Care Instructions: Sponge clean only. Daily plumping and regular airing will be beneficial for lasting comfort.
Room: Living Room, Bedroom, Conservatory, Home Office/Study
Brand: Unbranded