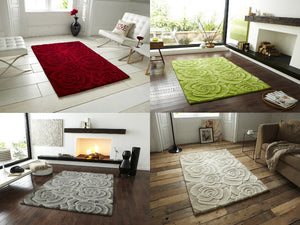 · Valentine VL10 120 x 170 beige
These stylish Valentine floor rugs have a stunning hand carved floral pattern throughout and create a cool, contemporary centre piece for any room.
The Valentine range is hand tufted using 100% wool. The colour shading and carving creates an amazing 3D effect, adding depth to the design.
The production of hand tufted rugs involves the tufter injecting the pile through a backing cloth from behind. Each pile is individually injected, the closer the tufts, the higher the density.
Available in Beige, Green, Light Grey or Red and in the following sizes:
90cm x 150cm (35" x 59").
120cm x 170cm (47" x 67").
150cm x 230cm (59" x 91").
These luxurious rugs would make the perfect focal point for your living room, bedroom or study and are available in a range of colours to suit your decor.
It is recommended that these rugs are professionally cleaned.
Photographs are for illustrative purposes only and shades may vary. Please note that not all combinations may be available.
Details: These Valentine rugs are made from super hand tufted wool, have large hand carved flowers and are available in a range of colours.
Size: 90cm x 150cm (35" x 59"), 120cm x 170cm (47" x 67") or 150cm x 230cm (59" x 91").
Care Instructions: Professional Clean.
Type: Area Rug
Material: 100% Wool
Style: Modern Contemporary
Size: 90cm x 150cm 35" x 59" 120cm x 170cm 47" x 67"150cm x 230cm 59" x 91"
Shape: Rectangle Oblong
Room: Living Room, Bedroom, Home Office/Study, Conservatory, Hallway, Porch
Brand: Think Rugs
Country / Region of Manufacture: India
Colour: Red Green Beige Grey