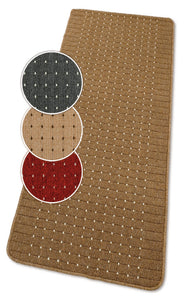 · Stanford red/cream 80x50
These traditional Stanford rugs and runners are made from durable polypropylene and would be ideal for your hallway, porch or conservatory.
These hardwearing rugs are available in: Red with Cream Flecks, Lead Grey with Sugar White Flecks, Chestnut Brown with Sugar White Flecks or Beige with Brown Flecks.
Each colour is available in sizes:
80cm x 50cm (31.5" x 19.5").
100cm x 67cm (39.5" x 26.5").
180cm x 67cm (71" x 26.5") Runner.
Photographs are for illustrative purposes only and all measurements are approximate.
Please note that not all combinations may be available.
Details: These traditional Stanford rugs and runners are hardwearing, machine washable and made from tufted polypropylene.
Size: 80cm x 50cm (31.5" x 20"), 100cm x 67cm (40" x 27") or 180cm x 67cm (71" x 27") Runner.
Care Instructions: Machine Washable.
Type: Door Mat
Material: Polypropylene/Olefin
Style: Traditional
Size: 80cm 31.5" x 50cm 20" 100cm 40" x 67cm 27" 180cm 71" x 67cm 27"
Shape: Rectangle
Room: Kitchen, Conservatory, Porch, Hallway,
Brand: Likewise
Colour: Red Cream Lead Sugar Chestnut Beige Brown