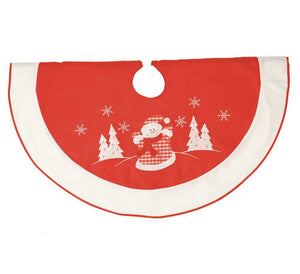 · 13559 Snowman Tree Skirt
This Christmas tree skirt has a snowman design and would finish off your festive decorations perfectly!
Wrap the skirt around the bottom of your Christmas tree to protect the floor and hide any stands.
Made from red felt with a white felt outer border, this traditional tree skirt measures 100cm (39") in diameter.
Spot clean or cool wash by hand, do not bleach or tumble dry, can be ironed on a low heat setting.
Photographs are for illustrative purposes only and all measurements are approximate.
Details: This felt Christmas tree skirt has a snowman design and would finish off your festive decorations perfectly!
Size: 100cm 39"
Care Instructions: Spot clean or cool wash by hand, do not bleach or tumble dry, can be ironed on a low heat setting.
Colour: Red
Style: Christmas
Room: Living Room
Brand: Seaquin
Material: Felt
Type: Tree Skirt