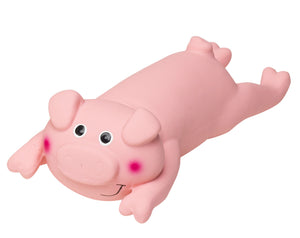 · Latex lounging pig 24001
This latex lounging pig dog toy by Petface squeaks when pressed, is ideal for interactive play and will provide your dog or puppy with exercise and fun.
Dogs are playful by nature and these toys perfect for younger dogs as the soft latex is not too tough for them to play with.
This pig toy is 22cm (9.5") long approximately.
Pets should be supervised when playing with toys. This toy is strong, but not indestructible and will eventually become susceptible to 'chew' damage. Examine regularly for wear and replace if any damage could represent a health hazard.
Photographs are for illustrative purposes only and all measurements are approximate.
Brand: Petface
Details: This Petface latex lounging pig dog toy squeaks when pressed and will give your pet hours of fun whilst keeping them fit and healthy.
Size: 22cm 9.5" Long
Colour: Pink
Material: Latex
Care Instructions: These toys are strong, but not indestructible and will eventually become susceptible to 'chew' damage. Examine them from time to time for wear and tear and replace when appropriate.
Type: Chew Toy
Country / Region of Manufacture: China