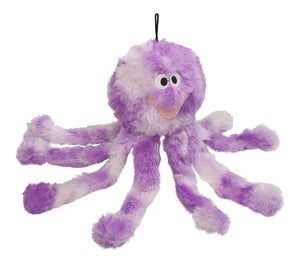 · Octopus dog toy S 22122
This soft faux fur purple octopus toy by Petface is ideal for interactive play and will provide your dog or puppy with exercise and fun.
Dogs are playful by nature and this squeaky octopus with crinkly legs will give your pet hours of fun and can help to keep them fit and healthy.
Available in Purple only and in Small, Medium or Large, the length of each size is as follows:
Small - Length: 25cm (10").
Medium - Length: 38cm (15").
Large - Length: 60cm (24").
Please note that this toy is not indestructable and for your pet's safety you should examine the toy from time to time for wear and tear and replace when appropriate.
Photographs are for illustrative purposes only and all measurements are approximate.
Brand: Petface
Details: This fun octopus squeaky dog toy by Petface is made from soft faux fur and has crinkly material in the legs.
Size: Small Medium Large
Colour: Purple White
Material: Plush
Care Instructions: Surface clean with a damp cloth.
Type: Stuffed Toy
Country / Region of Manufacture: China