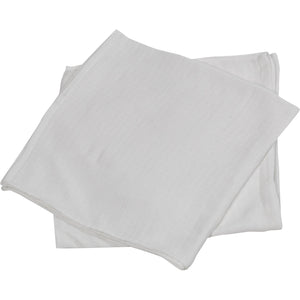 · Baby muslin cloths 10 pack premium
These versatile large muslin square cloths are made from super soft cotton and have many uses for your baby or for around the house.
These soft and absorbent muslin cloths can be used as:
Washable nappies
Reusable wipes
Bibs
Breast feeding covers
Baby towel
Burping cloth
Comforter
Cleaning cloths
Wash cloths
Straining
Steaming
Preserving
Cheese maturing
Available in White only, each pack contains 10 cloths, with each cloth measuring approximately 70cm x 70cm (27.5" x 27.5").
Machine washable at 40c, these cloths can be tumble dried on a low temperature and ironed on a medium heat setting.
Photographs are for illustrative purposes only and all measurements are approximate.
Details: These premium, super soft large muslin square cloths are made from 100% cotton and have many uses for your baby, kitchen or around the house.
Colour: White
Type: Muslin Cloth Reusable Nappy Wipe Bib
Size: 70cm x 70cm (27.5" x 27.5") approx.
Care Instructions: Machine washable at 40c, can be tumble dried on a low temperature and ironed on a medium heat.
Brand: Classic Home Store
Material: 100% Cotton