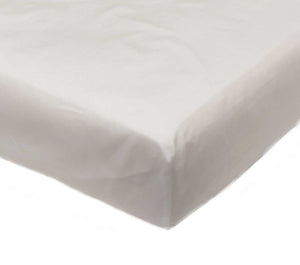 · Essential mattress protector 120x190
These Essential mattress protectors by Mattressgard provide you and your mattress with an extra layer of protection, aiding a restful nights sleep whilst also protecting your mattress from everyday wear.
These mattress protectors have a waterproof HPU membrane, are hypoallergenic and anti dustmite and help to control moisture.
Available in Bunk Bed (2ft 6"), Single, Long, Single, Three Quarter (4ft), Double, King or Super King. Measurements are as follows:
Bunk: 75cm x 200cm (29.5" x 79").
Single: 90cm x 190cm (35.5" x 75").
Long Single: 90cm x 200cm (35.5" x 79").
Three Quarter: 120cm x 190cm (47" x 75").
Double: 135cm x 190cm (53" x 75").
King: 150cm x 200cm (59" x 79").
Super King: 180cm x 200cm (71" x 79").
Made from a soft knitted polyester fabric with a 100gsm polyester skirt, these mattress protectors are a fitted sheet style and can be machine washed at 60c.
These mattress protectors come with a 10 year manufacturer's warranty.
Photographs are for illustrative purposes only and all measurements are approximate.
ALL SIZES GIVEN ARE UK STANDARD SIZES - PLEASE SEE OUR CONVERSION CHART TO SUIT YOUR BED SIZE!
Details: These Essential mattress protectors by Mattressgard are made from a soft knitted polyester, are waterproof, hypoallergenic and give dust mite protection.
Colour: White
Type: Mattress Protector
Material: Polyester
Size: 75cm x 200cm 90cm x 190cm 90cm x 200cm 120cm x 190cm 135cm x 190cm 150cm x 200cm 180cm x 200cm
Room: Bedroom
Brand: Mattressgard
Country / Region of Manufacture: China
Care Instructions: Machine Wash