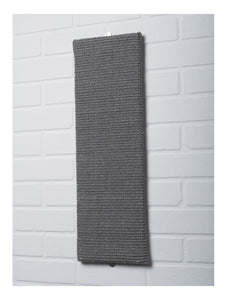 · CS28 willow cat scratcher
This willow cat scratching panel by Gor Pets is great for keeping your cat entertained, healthy and alert!
The post can be fixed to the wall and gives them an alternative to scratching the carpets and furniture around the home, whilst promoting good nail health and encouraging their natural feline behaviour.
The panel measures 60cm x 19cm (23.75" x 7.5") approximately. Fixings are included to attach to the wall.
A frequent application of catnip spray will help to maintain your cats interest in the scratcher - this can be purchased on a separate listing.
For your pet's safety examine the item for wear and tear from time to time. Pets should be supervised whilst playing. This toy is not suitable for children.
Photographs are for illustrative purposes only and all measurements are approximate.
Brand: Gor Pets
Details: This cat scratching post by Gor Pets can be fixed to walls and furniture to protect your furnishings while encouraging your cats natural feline behaviour.
Size: 60cm x 19cm 23.75" x 7.5"
Colour: Grey
Type: Pet Accessories