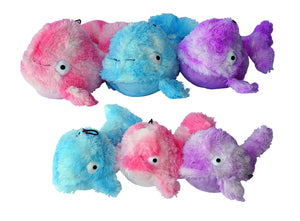 · Whale toy GR10 baby 28cm blue
Dogs just love to explore the sounds and shapes of this unique toy from the Gor Reef range by Gor Pets.
These whale toys crinkle, honk and squeak - the crinkly fins each have a squeaker, the tail has a squeaker and there is a grunter in the body section.
Available in Blue, Pink or Purple and in two sizes to suit most breeds, measurements are as follows:
Baby Whale - 28cm (11") long.
Mommy Whale - 41cm (16") long.
These Cuddle Soft toys are made from the softest furry fabric with a soft fleece underside and are filled with hollow fibre.
Dogs will love to wrestle and snuggle with this softie - but do be aware that this toy is not indestructible and may become susceptible to chew damage.
Photographs are for illustrative purposes only and measurements are approximate.
Brand: Gor Reef by Gor Pets
Details: Dogs just love to explore the sounds and shapes of this unique toy from Gor Pets - these whale toys crinkle, honk and squeak and are sure to keep your dog entertained!
Size: 28cm 11" 41cm 16"
Colour: Blue Pink Purple White
Material: Plush
Care Instructions: Surface clean with a damp cloth.
Type: Stuffed Toy