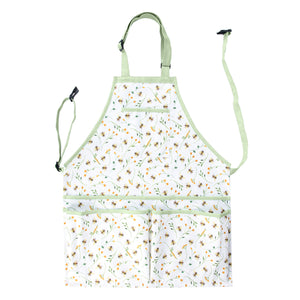 This Esschert gardening apron has a bee and flower pattern throughout, with 5 multi-functional pockets for all your gardening tools and a pouch for your mobile phone.
The neck strap and waist ties are made from light green faux leather and are both fully adjustable so that you can adjust the apron to fit just right for you.
The apron measures 52cm (20.5") Wide x 65cm (35.5") Long approximately.
This durable apron is made from 100% polyester and has a waterproof backing. It should be hand washed only, do not tumble dry or iron.
Photographs are for illustrative purposes only and all measurements are approximate.
Details: These bee print Esschert Design gardening aprons are adjustable and have 5 multifunctional pockets for all your gardening tools and a pouch for you mobile phone.
Type: Aprons/ Tabbards
Care Instructions: Hand wash only, do not tumble dry or iron.
Material: 100% Polyester 50% PU 50% PVC Straps
Length: 65cm 25.5"
Width: 52cm 20.5"
Colour: Green White Yellow
Brand: Esschert Design